Index to terms on this page:
land land-defined land land pattern
land pattern naming convention lane laser photoplotter LCC LCD LDI LDO lead lead count leadframe lead pitch ledger legend LFCSP LFCSP_VQ LGA LIFO liquid photoimageable solder mask L-leaded LLP lm LMC LNA LNB LNBC LO logical component
Log Periodic Antenna
Low-Noise Block Converter LPC LPI LQFP LSB LSSOP LTCC LTE LTE-TDD lumen LVDS LVPECL
land — A pad, especially a pad of a surface mount device.

↑ Page Index
land-defined land — An NSMD pad.

↑ Page Index
land pattern — Footprint. Although a land usually refers to a surface mount pad, land patterns can refer to footprints of either surface mount or through hole components.

↑ Page Index
land pattern naming convention — A system for identifying components and their land patterns. Aka footprint naming convention.

The naming of footprints is important to PCB designers. Manufacturers use descriptive names (acronyms) for their component packages. Some also have codes for their packages. These acronyms and codes can be searched for on the Internet and mechanical drawings found to match. Example acronym: TSSOP-16. Example package codes of two different sized TSSOP-16 packages from Texas Instruments: PW0016A and R-PDSO-G16.

In PCB layout, the PCB designer needs to duplicate the mechanical drawing for each footprint in order for the printed board as manufactured to match the components that will be soldered to it. If a footprint isn't designed with the same dimensions, the component won't fit.

The common names for component packages and footprints are useful for identifying classes of components. However, when it comes to getting the footprint built correctly and later finding them in a library file, the PCB designer needs more complete information. He needs to know the land pattern's dimensions. If the name in his library doesn't include this information (see above example TSSOP-16), how does he know he has chosen the right footprint to place into his PCB design file? He would have to measure the key dimensions of the footprint before using it in his design. What a time waster! How much better would it be if the dimensions were built into the footprint name!

Tom Hausherr created a system for naming components that included these dimensions. He collaborated with Dieter Bergman, Gary Ferrari, Vern Solberg and Jeff Mellquist to incorporate his system into the industry standard land pattern naming convention: IPC-7351, which was released in 2005. This naming convention has undergone evolution and is now officially IPC-7351B (released 2009). The draft for a newer version C was proposed by Tom in 2016 but is not officially adopted.

In 2004 Tom established PCB Libraries to distribute the new 7351 calculator that he and Jeff Mellquist created, even though 7351 was not yet released. The land pattern calulations are based on IPC standards and industry best practices. PCB Libraries now offers software that creates footprints based on user-input mechanical dimensions. The software interfaces to all PCB CAD systems. You enter dimensions, which can be copied and pasted from manufacturer mechanical drawings, and you wind up with a footprint in your PCB library. The naming convention that PCB Libraries uses is summarized in "Library Expert Land Pattern Naming Convention.pdf." Or one can require the software to name footprints based on the released IPC-7351B. The naming convention and other documentation become available when you download and install the software. Improvements over IPC-7351B in the Library Expert convention include dimensioning of leads of components as well as exposed paddles. Because of these improvements, I base my footprint names on Tom's naming system of 2016.

This forum topic on the various land pattern naming conventions covers the history of their development.

Please see in this glossary the package acronym WSON for an example application of a land pattern naming system.

↑ Page Index
Lane — [Wikipedia] A lane is composed of two differential signaling pairs: one pair for receiving data, the other for transmitting. Thus, each lane is composed of four wires or signal traces. Conceptually, each lane is used as a full-duplex byte stream, transporting data packets in eight-bit 'byte' format simultaneously in both directions between endpoints of a link.[10] Physical PCI Express links may contain 1, 4, 8 or 16 lanes.[5][9] Lane counts are written with an "×" prefix (for example, "×8" represents an 8-lane card or slot), with ×16 being the largest size in common use.[12]
[5] Ravi Budruk (2007-08-21). "PCI Express Basics" PCI Express® Basics PCI-SIG. Archived from the original (PDF) on 15 July 2014. Retrieved 15 July 2014.
[9] PCI Express Architecture Frequently Asked Questions PCI-SIG. Archived from the original on 13 November 2008. Retrieved 23 November 2008.
[10] PCI Express Bus Archived from the original on 8 December 2007. Retrieved 12 June 201
[12] PCI Express -An Overview of the PCI Express Standard Developer Zone. National Instruments. 13 August 2009. Archived from the original on 5 January 2010. Retrieved 7 December 2009.

↑ Page Index
laser photoplotter — (also "laser plotter") A photoplotter which simulates a vector photoplotter by using software to create a raster image of the individual objects in a CAD file, then plotting the image as a series of lines of dots at very fine resolution. A laser photoplotter is capable of more accurate and consistent plots than a vector photoplotter.

↑ Page Index
LCC — Leadless Chip Carrier

↑ Page Index
LCD — Liquid Crystal Display

↑ Page Index
LDI — Laser Direct Imaging. This is the technology used in a laser photoplotter.

↑ Page Index
LDO — Low Dropout (of Voltage). See dropout Voltage.

↑ Page Index
lead — (LEED) Pronunciation Key noun [PCB Components] A terminal on a component. See example at gull wing.

↑ Page Index
lead count — (LEED-KOWNT) Pronunciation Key [PCB Layout] noun An estimate of the total number of leads or component terminals of a future PCB. Used by PCB design service bureaus, this is a common procedure for estimating job scope and is typically done in part by counting the terminals represented in a schematic.

Aka "pin count." Lead count is the preferred term, because pin count seems to imply only through pins are counted.

↑ Page Index
lead frame — (LEED-FRAYM) Pronunciation Key noun [Component Manufacturing] The metal frame that semiconductors are attached to during the package assembly process. Typically a lead frame is a long metal frame with positions for multiple chips.
After the chips are attached to the lead frame tiny wires are used to connect the chip bond pads to the frame and then the positions on the frame where chips are located are encapsulated in epoxy.

At this point, the leadframe package goes through a solder plating process whereby the metal frame with the leads are plated with a tin-lead or lead-free tin or tin alloy finish. After the plating step, the metal frame goes through a trim-and-form process whereby leads are separated from the frame and each package is diced, separated and made ready for assembly.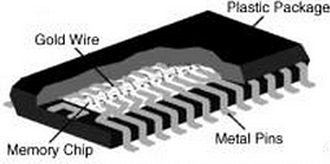 Citation:
Paunovic, Milan, and Mordechay Schlesinger. Modern Electroplating. 5th ed., Wiley, 2014.

↑ Page Index
lead pitch — (LEED-pich) Pronunciation Key Lead refers to a terminal on a component. Lead pitch is the the distance between centers of adjacent leads in a row. This is usually consistent throughout the row(s) of component signal pins. Lead pitch will be stated in any generic description of a component that has leads of consistent pitch. (Eg: a 50-mil SOIC-8 means a Small Outline Integrated Circuit with 8 pins in two rows; the four leads of each row have a typical center-line distance from any adjacent lead of 50 mils (50 thousandths of an inch) and this is its pitch.

↑ Page Index
ledger — [Documentation] A size of paper—11 x 17 inches. Also known among mechanical engineers as ANSI B. It is an inch smaller in width and height than US Standard Architectural Drawing size ARCH B.

According to Brother printer manufacturer, ledger is also called tabloid—it gets its name from being the right size for a standard newspaper. IBM distinguishes ledger from tabloid according to orientation—ledger is oriented as portrait and tabloid is oriented as landscape.

Table of US Paper Sizes
| | |
| --- | --- |
| ANSI A (aka Letter) | 8.5 x 11 inches |
| Legal (no ANSI equivalent) | 8.5 x 14 inches |
| ANSI B (aka ledger or tabloid) | 11 x 17 inches |
| ANSI C | 17 x 22 |
| ANSI D | 22 x 34 inches |
| ANSI E | 34 x 44 inches |
For paper sizes showing both metric and imperial units, see
US Paper Sizes
↑ Page Index
legend — [PCB Fabrication] The IPC-preferred term for silkscreen. In the most modern of board houses, the legend is applied by means of a specialized ink jet printer, not by a silk screening process. But such epoxy-based ink text on a printed board is still called "silkscreen" by many electronics industry professionals.

↑ Page Index
LFCSP — Lead Frame Chip Scale Package, a package description used by Analog Devices to describe a chip-scale QFN.

↑ Page Index
LFCSP_VQ — Lead Frame Chip Scale Package _ Very Thin Quad, a package description used by Analog Devices to describe a chip-scale QFN with a maximum height of 1 mm.

↑ Page Index
LGA — (EL GEE AY) Pronunciation Key
noun [Components] Land Grid Array
The following is a good illustrated explanation of Land Grid Arrays. This is from Intel, who has used LGAs for many of their CPUs (Central Processing Units). https://www.intel.com/content/dam/www/public/us/en/documents/guides/lga-socket-and-package-technology-training-guide.pdf
Leadless Chip Carrier is sometimes used as a meaning for LGA. This is a misnomer. It is incorrect. Leadless chip carriers are usually not grids, but instead are quad packages. Quad packages have four rows of lands forming a rectangular shape.

↑ Page Index
LIFO — Last In First Out.

↑ Page Index
liquid photoimageable solder mask (LPI) — A mask sprayed on using photographic imaging techniques to control deposition. It is the most accurate method of mask application and results in a thinner mask than dry film solder mask. It is often preferred for dense SMT.

↑ Page Index
L-leaded — "L" leaded IC packages have leads formed in a configuration very similar to the outline of the letter "L." The leads are shorter (length and height) than the "Gull-Wing" and tend to be much stiffer (hardened). The TSSOP packhage is typically "L" Leaded rather than gull wing.
SURFACE MOUNT TECHNOLOGY (SMT) GULL-WING/"L" LEADED PACKAGES

↑ Page Index
LLP — Leadless Leadframe Package. (Eg. QFN, but also can be in dual in-line configurations)

↑ Page Index
lm — [Photometry] Abbreviation for the lumen unit. Luminous Flux schorsch.com

↑ Page Index
LMC — Least Material(s) Condition

↑ Page Index
LNA — Low-Noise Amplifier. In a sequence of amplifier stages, noise in the earliest stage is amplified the most, so LNA's are best placed early.

↑ Page Index
LNB — Low-Noise Block (converter). See Low-Noise Block Converter.

↑ Page Index
LNBC — [Communications Technology] See Low-Noise Block Converter

↑ Page Index
LO — (Satellite receivers) Local Oscillating frequency

↑ Page Index
logical component — [Altium Designer] "It is helpful to understand that there are essentially two types of components in Altium Designer; logical components and physical components. The distinction is that components placed on the schematic sheet are logical components, where each is a conceptual entity that represents the physical component that is ultimately mounted on the assembled PCB." (quote from Altium tech doc Supporting Design Variants in Altium Designer. June, 2021.)

If that seems arcane to you, that makes two of us. The best way to understand this concept is to play around with a hierarchical schematic that uses multi-channel design.

Available from Altium Academy is this download: CurrentAD17_Advanced_PCB_Design_Files.zip. It is associated with this video tutorial: Multi-Channel PCB Schematic and PCB Design. (If these links expire, I found them by Googling "Altium Live download example multi-channel design.") Open the example multi-channel project therein. This in the folder Multi-Channel Design. Open all the schematics.

In the Schematic Editor, at the bottom of the workspace are tabs. The leftmost tab is named "Editor." Click on this tab to see the Editor View. In this workspace, edits can be made.


To the right of the Editor tab in this compiled schematic are the Compiled Document tabs. (If this project hadn't already been compiled, the Compiled Document tabs would not be there.) In Altium Designer, click on one of these tabs to see a Compiled Documents View. Reference designators shown in the image below in bold are of physical components. These reference designators will appear as shown in the PCB file. No edits can be done in a compiled view.


Are you wondering, "What does all this mean? This is where you can gain understanding by playing around with this example project.

If multi-channel design is a new subject for you, watch the video tutorial mentioned above. Look at the associated PCB file. Edit the schematic from the Editor tab to change a reference designator, then look at the Compiled Views. Update the PCB and see what happens. Open the Project Options / Multi-Channel and look at the Designator Format. It is $Component_$RoomName. Change that to another option, update the PCB again and look at the PCB file. Try this option: $Component_$ChannelIndex. Play around with it.

↑ Page Index
Log Periodic Antenna — aka Log Periodic Dipole Array (LPDA). See also Yagi antenna Designing Log Periodic Antennas By Glen Dash

↑ Page Index
Low-Noise Block Converter — [Communications Technology] (LNBC) Satellite-industry term for receiver stage that amplifies and converts received microwave downlink signal into lower-frequency CATV signal. See Low-Noise Amp (LNA).
[Source: Stammtisch Beau Fleuve Acronyms - LNBC]

↑ Page Index
LPC — Low Pin Count bus.

↑ Page Index
LPI — stands for Liquid PhotoImageable. Refers to liquid photoimageable solder mask.

↑ Page Index
LQFP — Low-profile Quad Flat Package

↑ Page Index
LSB — Least Significant bit. Eg. in a 32-bit bus, the LSBs would be signals 0-15. Cf. MSB.

↑ Page Index
LSSOP — L-leaded Shrink Small Outline Package.

↑ Page Index
LTCC — [Ceramics] Low Temperature Co-fired Ceramic is a multi-layer technology for microelectronics packaging. Each of the layers are processed in parallel and only brought together in an accurately aligned stack immediately prior to firing. This is the key differentiator to serially produced multi-layer structures such as thick film hybrid interconnect and components such as ceramic capacitors. LTCC technology is especially beneficial for RF and high-frequency applications.

↑ Page Index
LTE — [Communications Technology] Long-Term Evolution is a standard for wireless broadband communication for mobile devices and data terminals. It increases the capacity and speed using a different radio interface together with core network improvements.The fourth-generation wireless standard? No, actually it is 3.95G but ITU (International Telecommunication Union) now allows it to be marketed with 4G equipment as "True 4G."
[Wikipedia - Long-Term Evolution]

↑ Page Index
LTE-TDD — [Communications Technology] Long-Term Evolution Time-Division Duplex (LTE-TDD), also referred to as TDD LTE, is a 4G telecommunications technology and standard co-developed by an international coalition of companies, including China Mobile, Datang Telecom, Huawei, ZTE, Nokia Solutions and Networks, Qualcomm, Samsung, and ST-Ericsson. It is one of the two mobile data transmission technologies of the Long-Term Evolution (LTE) technology standard, the other being Long-Term Evolution Frequency-Division Duplex (LTE-FDD).
https://en.wikipedia.org/wiki/LTE_(telecommunication)

↑ Page Index
lumen — [Photometry] Standard unit of luminous flux is Lumen (lm).

↑ Page Index
Luminous Flux schorsch.com
LVDS — Low Voltage Differential Signaling

↑ Page Index
LVPECL — (EL VEE PECK-əl) Pronunciation Key ; noun [Electronics] Low Voltage Positive Emitter Coupled Logic. It uses 3.3V or 2.5V power supply and is a type of differential signaling. Traditional ECL operates in a negative voltage range (see VEE), so one advantage of LVPECL is that it requires fewer power supply voltages, since most boards will also require some +5V or +3.3V.

↑ Page Index
For a advantages and disadvantages of
LVPECL
see
LVPECL fpgakey.com